SVGA to HDMI Converter
The VGA to HDMI converter can convert the analogue signal coming from your PC into a digital HDMI signal.
Easy to Use: Installs in seconds, does not need drivers\\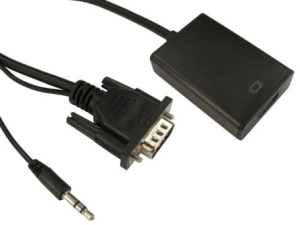 Conversion: It can convert VGA and Audio into a complete HDMI signal
Leaded type adapter with built-in VGA and Audio cable
Input: VGA Signal, 3.5mm stereo and USB power
Output: HDMI Signal
Video output: HDMI v1.3b
Support HDCP 1.2 Version
Black aluminium alloy shell
Small, portable size
Length (VGA connector to HDMI connector): 26cm
Length (attached stereo cable): 58cm
Length (USB to Micro USB cable): 1mtr VGA input format: 800×600 / 1024×768 / 1280×720 / 1280×768 / 1280×800 / 1280×1024 /1360×768 / 1600×1200 / 1920x1080P @ 60Hz
Supports VGA video input formats: VGA, XGA, SVGA, SXGA, UGA
HDMI output format: Up to 1080p/60Hz (output and input format SYNC and frequency SYNC)
You can not only enjoy a high definition image but also audio from the 3.5mm stereo socket. Power is provided
from the included USB cable; simply plug this into your computer. No external power adapter is needed.

RS 918-6831