SM132 USB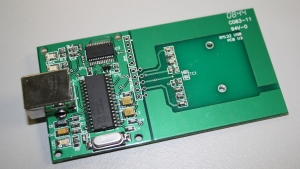 SM132-USB is a compact, plug & play, USB module that includes all neccessary components for 13.56 MHz RFID Mifare® Reader/Programmer including the PCB antenna.

SM132-USB is USB powered and thus it does not require any external power connection.

SM132 Mifare® Read/Write USB module is a low cost solution for Mifare PC applications such as Customer Loyalty, e-purse etc. It supports Mifare® Classic 1K (1KByte), Mifare® Classic 4K (4KByte)and Mifare® Ultralight (512 bit).

There is no hardware or electronics knowledge required. User can start to use the device as a stand alone reader/programmer with the provided SMRFID Mifare Software or can create his/her own specific software easily with the provided Software Development Kit (SDK). The module itself performs all demodulation, decoding, encryption and decryption operations. Users never need to know about RFID concept and the only thing is to control the module by PC with ready ActiveX library APIs or using serial port protocol explained in device datasheet.

This module can be used with the employee and student cards used here at the university
Tags can also be borrowed here at the SmartXp

Datasheet
Labview vi for SM132 USB
windows driver for SM132 USB
Mifare Programmer & Reader